The song playing is
"The Theme from Missing"
It is a very sad song, but does set the appropriate
mood for us to view those once happy faces of the victims pictured below. You may adjust the
volume, save this "midi file" or turn the sound off here.
Please
pray
for their return?




That we may know you cared please sign our Guestbook?


This Java Applet Banner will run continuously, displaying the 13 Missing Children Alert Cases. Clicking on the photograph will bring up the Alert
Page with more information, and the ability to print posters. Clicking
on the Marquee Message will connect to the NCMEC home page.
This
Missing Children's Ring
site is owned by
Terrance D. Martin
.
Click for the
Next Page
||
Previous
||
Next 5
||
Join
If the Ring is down, a complete
listing
of members' links are here.
Newest Missing Alerts
!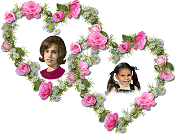 The Vermont State Police Seek Information
Shawn Hornbeck - Search and Rescue
Here are a few more links that I have found helpful to our cause:
Hit your "Back" button or Try one of AcreconaŽ's "Top Sites" below:
[ AcreconaŽ - LEO Links Directory ] [ A Dedication to Peace Officers (Worldwide) ] [ LEO Memorials ]
[ Police Poems ] [ Official Directory of State Patrols & State Police ] [ State Trooper Home Pages ]
[ Vermont State Police ] [ Veterans' Links and Memorials ] [ Web Rings ]
E-mail me to have your site added or Top